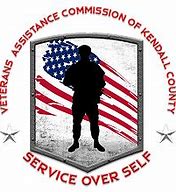 The Veterans Assistance Commission of Kendall County (VACKC) is a Non-Profit 501(c)(19) organization.
Our motto, "Service Over Self " highlights our team's dedication to helping those who have served our country. We strive to better the lives of veterans and their families as they have made the American way of life possible. Whether navigating an application for benefits, mourning the loss of someone close, or venting over coffee,
we are committed to serving those who have selflessly sacrificed 
for the things we enjoy.
Categories: Non-Profit/Volunteer
811 W John St
Yorkville, IL 60560